Hip Fracture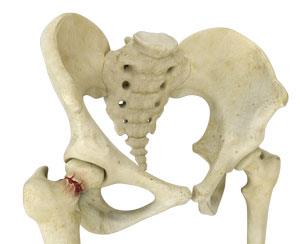 A Hip fracture is a break that occurs near the hip in the upper part of the femur or thigh bone. The thigh bone has two bony processes on the upper part - the greater and lesser trochanters. Hip fractures can occur in the femoral neck, in the area between the greater and lesser trochanter or below the lesser trochanter.
Hip fractures mostly happen after minor trauma in elderly patients with weak bones, and by a high-energy trauma or serious injuries in young people. Long term use of certain medicines, such as bisphosphonates and steroids, alcoholism and other bone diseases, increase the risk of hip fractures.
Signs and symptoms
Signs and symptoms of hip fracture include:
Pain in the groin or outer upper thigh
Swelling and tenderness
Discomfort while rotating the hip
Shortening of the injured leg
Outward or inward turning of the foot and knee of the injured leg
Your doctor may order an X-ray to diagnose your hip fracture. Other imaging tests, such as the magnetic resonance imaging or (MRI), may also be performed to detect the fracture.
Depending on the location, hip fractures are classified as
Intracapsular Fracture
Intertrochanteric Fracture
Subtrochanteric Fracture
Hip fractures can be managed non-operatively and operatively: Although the preferred method is surgical management.
Traction may be an option to treat your fracture if you are not fit for surgery.
Hip fractures can be surgically treated with external fixation, intramedullary fixation, or by using plates and screws.