Robotic Assisted Partial Knee Replacement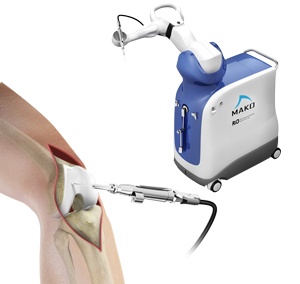 Robotic assisted partial knee surgery is an innovative alternative to the conventional surgical procedure in patients suffering from degenerative knee disorders such as osteoarthritis. The procedure is applicable for patients with unicompartmental knee arthritis. Robotic assisted partial knee surgery can be considered for patients with early to mid-stage osteoarthritis associated with symptoms such as knee pain and swelling.
This procedure utilizes pre-operative X-rays and CT scans to create a 3D model of your arthritic knee. Using this model, your surgery is planned to re-align your leg to the pre-arthritic state. The procedure may be used for total or partial knee surgery. In the partial knee resurfacing, only the diseased portion of your knee is removed (using the robotic arm for accuracy), preserving the surrounding healthy bone and tissue. An implant is then inserted onto the prepared portion of your knee joint.
Overview
Robotic technologies have been developed with the aim of improving surgical precision, component alignment and soft-tissue balance. The expectation is that this improvement will result in better patient outcomes. Robotic-assisted Joint Replacement surgery includes a preoperative plan developed from radiological images, the use of computer-assisted orientation for positioning (based on Computer Navigation), and the use of robotic-assisted cutting, burring or reaming tools for bone preparation.
While robotic-assisted joint replacement surgery has been met with optimism, it will take some time to obtain the necessary scientific data to be able to clearly outline its role, and it may be many years before the possible benefits of improved alignment and balance are realised. Importantly, this technology comes with added costs and a potential for increased operating time.
There AOANJRR has recorded encouraging 2-year results for robotic-assisted partial knee replacement. As robotic-assisted total knee and hip replacement has only recently been introduced, results for this technology in these scenarios are not yet known.
Click here to know About the MAKOplasty® Robot