Robotic Assisted Partial Knee Replacement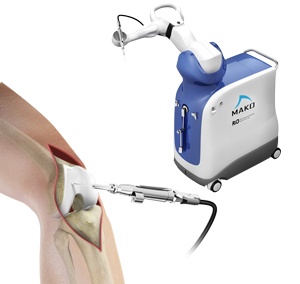 Robotic assisted partial knee surgery is an innovative alternative to the conventional surgical procedure in patients suffering from degenerative knee disorders such as osteoarthritis. The procedure is most beneficial in patients with unicompartmental knee arthritis. Robotic assisted partial knee surgery can be considered in patients with early to mid-stage osteoarthritis associated with symptoms such as knee pain and swelling, It is performed using robotic-arm technology that allows the surgeon to precisely perform the surgery through a smaller incision as compared to traditional surgery.
This procedure utilizes pre-operative X-rays and CT scans to create a 3D model of your arthritic knee. Using this model, your surgery is planned to straighten your leg and to cover the arthritic areas in your knee. The procedure may be used for total or partial knee surgery. In the partial knee resurfacing, only the diseased portion of your knee is removed (using the robotic arm for accuracy), preserving the surrounding healthy bone and tissue. An implant is then inserted onto the prepared portion of your knee joint. As it employs a minimally invasive technique the incidence of swelling and blood loss is very low.
Benefits
The benefits of the robotic assisted partial knee surgery include:
Smaller incisions compared to total knee replacements
Rapid recovery compared to total knee replacements
Precise placement of the implants
Reduced injury to adjacent tissues because of the smaller incision
Click here to know About the MAKOplasty® Robot